PolarGuard® – Heavyweight thermal performance in a lightweight sheet.
An ideal multi-purpose insulation that is equally effective above or below-grade.  Li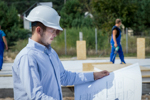 ghtweight and versatile, PolarGuard® has the physical and mechanical properties for the most demanding applications.
Offering superior moisture resistance and high R-value, PolarGuard® stands up to rough handling on the job, and delivers long-term performance when subjected to harsh conditions; like under concrete slab, or buried around a foundation wall.
Adding a layer of PolarGuard® insulation helps to ensure that Energy Conservation Codes are being met in a variety of interior and exterior applications, in any climate zone.  Made using time tested polystyrene, PolarGuard® is available in standard and high densities to provide the most effective insulation at the most affordable price.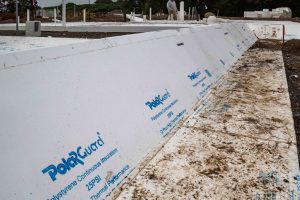 ---
PolarGuard® GPS – Graphite Powered
Offering the same advantages as PolarGuard®, but made using the enhanced thermal performance of graphite infused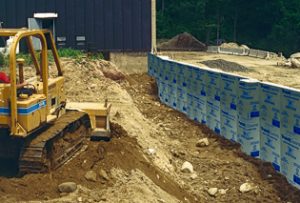 polystyrene and high strength plastic film, PolarGuard® GPS is a durable, high R-value insulation that improves comfort and lowers energy costs.
Dramatically reduce heating demands in cold climates and increase year round comfort in all climates.
PolarGuard® GPS is available with compressive strength properties to meet the different demands of a variety of construction applications.  Whether exterior foundation walls, inside a basement or under a concrete slab PolarGuard® GPS will help insulate to code, economically and permanently.