WeatherAll® polystyrene rolled insulation (PRI) is manufactured using high performance polystyrene, laminated to durable plastic film. The combination results in a lightweight, resilient, high R-value insulation that improves comfort and lowers energy costs. WeatherAll® PRI is continuous insulation that can be used to meet increasingly stringent energy codes, and stand up to rough job site handling.
---
Versatility in a r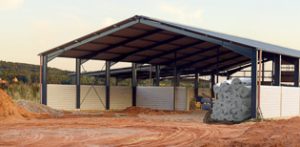 oll – WeatherAll® PRI is formed into convenient rolls that can be used in a variety of applications. Easy handling and exceptional thermal performance makes it ideal for speeding up application. Rolled insulation covers significantly more area than traditional sheets, reducing seams and lowering costs.
---
WeatherAll® PRI  provides support for  hydronic radiant heating systems and is an excellent thermal break, limiting energy migration into the ground.
There are no bubbles to break when used as condensation control in pole barns.
Polystyrene resists compression when screwing to perlins.  Maintaining thermal separation reduces condensation and improves efficiency in metal building.
Keep the attic cooler and trap asphalt granules, keeping them away from metal roofing when installing metal roofing over shingles.