Polar's polystyrene products have been used in a fascinating variety of applications. From homes like yours, to shopping malls, bridges and even fermentation tanks.  Polystyrene's light weight, high strength and excellent thermal performance have benefited homeowners, architects and engineers.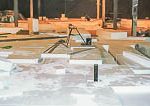 Cambridge, Massachusetts
Polystyrene blocks manufactured to engineer's specification are used to convert an indoor loading dock to retail space. High strength EPS is used to raise the approach used by tractor trailers to the same height as the loading platform. Once installed the entire surface is covered in concrete.  When finished customers shop for their best buys.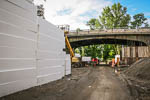 Yonkers, New York
Underlying support for bridge repairs in Yonkers New York.  Blocks of EPS are used as lightweight stabilizing fill for the Odell bridge over the South County Trailway in Yonkers.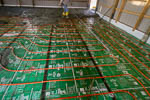 Prospect, Connecticut
High R-value and compressive strength make WeatherAll® HD the perfect thermal break between the ground and poured concrete slab in this garage.  Polar's insulation improves the efficiency of the hydronic radiant  heating.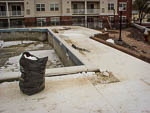 Mamaroneck, New York
How to keep residents cools when there is no room for a pool?  By creatively utilizing the  lightweight strength of polystyrene designers placed an in ground pool on top of a parking garage.   Now, otherwise rarely used space, is the center of summertime action.